Welcome to VIP Dallas Party Bus: The Ultimate Destination for VIP Game Night on Wheels
Welcome to VIP Dallas Party Bus, where we specialize in providing unparalleled VIP transportation services for an unforgettable gaming experience. Furthermore, get ready to take your game night to the next level with our VIP Game Night on Wheels. Moreover, with our commitment to punctuality, reliability, cleanliness, and affordable prices, we are dedicated to ensuring a remarkable gaming experience for you and your friends. Additionally, choose between our 14-person and 24-person VIP buses, designed to accommodate your gaming group and guarantee a night of excitement and fun.
Immerse Yourself in the Gaming World: Unleash Fun and Excitement Aboard VIP Dallas
Indulge in the ultimate gaming extravaganza with VIP Dallas Party Bus. Our state-of-the-art buses are equipped with all the amenities you need for an immersive gaming experience. From comfortable seating to high-speed Wi-Fi connectivity, we create the perfect setting for you and your friends to play your favorite games on the go. Whether you're into console gaming, virtual reality, or tabletop games, our VIP Game Night on Wheels has got you covered.
Punctuality and Reliability: Ensuring Your Game Night Starts without Delays
At VIP Dallas Party Bus, we take pride in our punctuality and reliability. You can count on us to arrive on time, ensuring that your game night starts without any delays. Our experienced drivers navigate the city with precision, providing a smooth and comfortable ride, so you can focus on enjoying the games and spending quality time with your friends. Rest assured, our commitment to your satisfaction is unwavering.
Cleanliness and Organization: A Pristine and Comfortable Environment for an Uninterrupted Gaming Experience
Cleanliness and organization are paramount to us. Our party buses undergo meticulous cleaning and sanitization before and after each event, ensuring a pristine and comfortable environment for your gaming session. Our spacious and well-organized interiors offer ample space for gaming setups and provide a relaxed atmosphere for uninterrupted fun. Get ready to dive into the gaming world while enjoying the cleanliness and orderliness of our VIP Dallas Party Bus.
Going the Extra Mile: Exceptional Service and Affordable Prices for Unforgettable Gaming Nights
We go the extra mile to satisfy our clients. Additionally, our dedicated team strives to provide exceptional service and make your gaming experience unforgettable. Moreover, we understand the importance of your gaming night and aim to exceed your expectations. Furthermore, with our affordable prices, we ensure that you can enjoy the ultimate gaming experience without breaking the bank. Ultimately, at VIP Dallas Party Bus, your satisfaction is our top priority.
Step aboard our luxurious party buses, designed to accommodate 14 passengers, and indulge in the following amenities:
Colorful party lights to create an energetic atmosphere, setting the stage for an unforgettable celebration.
A high-quality surround sound system for an exceptional audio experience, ensuring your favorite music sounds incredible.
Tinted windows for privacy and an upscale appearance, allowing you and your friends to enjoy the party in style.
A large cooler that can hold up to 30 cans, keeping your beverages refreshingly chilled throughout the journey.
Two bar areas conveniently located onboard, providing easy access to your favorite drinks.
Bluetooth connectivity, enabling you to wirelessly play your desired music and keep the party going.
Comfortable black padded leather seats, offering maximum comfort and adding a touch of sophistication to your ride.
Air conditioning and heating systems to ensure optimal comfort, regardless of the weather outside.
Three televisions for on-board entertainment, allowing you to enjoy movies, shows, or even display special messages for the guest of honor.
iPhone TV connection for seamless media streaming, giving you the freedom to enjoy your favorite content during the journey.
Two spacious dance floors, providing ample space for dancing, celebrating, and creating lifelong memories.
Privacy curtains, allowing for intimate moments or private conversations when needed.
We also offer buses with a capacity of 24 passengers, featuring the following amenities:
Experience colorful party lights that create a lively atmosphere.
Enjoy high-quality surround sound for an immersive audio experience.
Benefit from polarized windows for added privacy.
Utilize the spacious cooler to keep your drinks cool during the journey.
Take advantage of two bar areas for convenient drink service.
Connect your devices effortlessly with Bluetooth connectivity.
Relax in plush black leather seats.
Stay comfortable with air conditioning and heating systems.
Enjoy entertainment on three televisions.
Stream media from your iPhone to the TV.
Show off your dance moves on two dance floors.
Ensure privacy with the availability of privacy curtains.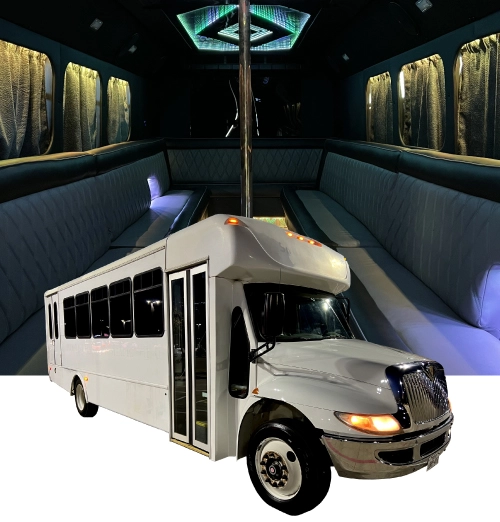 VIP Game Night on Wheels
Elevate your gaming experience with VIP Dallas Party Bus and experience the thrill of VIP Game Night on Wheels. In addition, contact us today to book your VIP Dallas Party Bus and embark on a gaming adventure like no other. Furthermore, let us transport you and your friends to a world of excitement, competition, and camaraderie. Get ready to level up your game night and create memories that will last a lifetime.