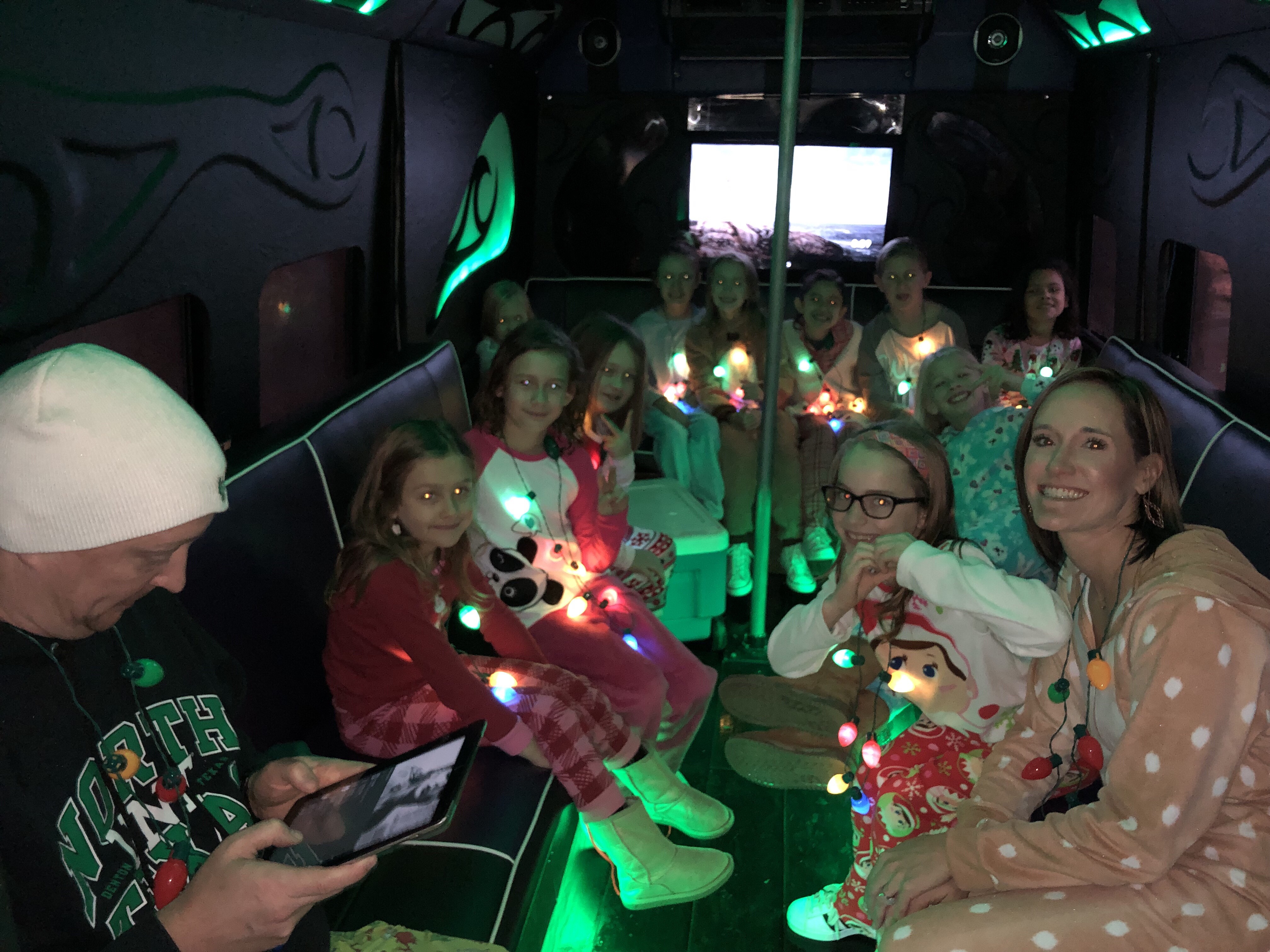 A birthday party celebration is a perfect time to spend with your loved ones, while you remember the day you were born. Usually, birthday parties include a birthday cake with candles surrounded by friends and family.
Here at VIP Dallas Party Bus, we strive to make a difference, particularly on Birthdays! We make sure they end up being extra special and memorable. Rather than a traditional party, this family chooses to spend their evening with a creative scavenger hunt, all inside the bus.
Picking her up at birthday party celebration party
First, we picked up the birthday girl who was turning 9 years old.  This birthday girl was surrounded by many cousins, her younger sister, and her mom and dad. They wanted to do a pajama themed birthday party and were so excited they could do it on wheels.
We picked them up at 7:00am, they brought donuts and drinks for all the girls who were invited. They chose the 3 hour special on our 14 passenger bus. The adventure began by picking up all of her friends in each of their houses. Thankfully,  they all lived closed by around the neighborhood.
Let the fun times begin!
The mom created a list for a scavenger hunt and the idea was to make multiple stops at different places. First, they would get out of the bus with clues to find particular things. Once they found the items, they would snap a picture with their phones. Once they completed the scavenger hunt they got a surprise.
The scavenger hunt
The first stop for the scavenger hunt was their own elementary school in Plano. They got out, took pictures next to the school sign and headed out for the second stop. The next stop was a fire station. They took pictures with the fireman and even got to get on the fire engine itself!
After, came the third stop; a middle school. The fourth stop was a high school in Plano. Next, they stopped at the Museum of the American railroad, also at the Ford Center at the star in Frisco Tx. The last stop for the scavenger hunt was a police station.
Finally, we ended the adventure at a police station in Frisco, TX, where a very nice police officer took a picture with all the girls.
Dancing on the bus finishing the birthday party celebration
After the scavenger hunt was over, while driving to the final destination, they started dancing and singing for the last 30-40 minutes. Before dropping them back at the birthday girls' house the had to enjoy the very last moments on the party bus. They received the prize from the scavenger hunt which was a delicious cake! They surely had so much fun and were ecstatic to have been part of this memorable experience.