Discover the City in Style with Glamorous VIP Bus Tours In Dallas
Introducing Glamorous VIP Bus Tours in Dallas
Explore the vibrant city of Dallas like never before with "Glamorous VIP Bus Tours In Dallas" offered by VIP Dallas Party Bus. We provide a unique, luxurious way to experience the city, whether it's for a special event or simply a memorable night out.
Choose From Our Fleet of VIP Buses
Our fleet of VIP buses offers two different options to cater to your needs. Our smaller, cozy bus holds up to 14 people, perfect for intimate groups or close-knit celebrations. For larger gatherings, our spacious bus comfortably accommodates up to 24 people, ensuring everyone in your party can be part of the fun. No matter the size, every one of our Glamorous VIP Bus Tours in Dallas promises a ride filled with luxury and excitement.
Punctuality and Reliability: Our Promise
We understand the importance of time when it comes to your special events and tours. That's why we make it our mission to always be punctual and reliable. We strive to ensure that our Glamorous VIP Bus Tours in Dallas start and end on time, keeping your plans running smoothly.
Step aboard our luxurious party buses, designed to accommodate 14 passengers, and indulge in the following amenities:
Colorful party lights to create an energetic atmosphere, setting the stage for an unforgettable celebration.
A high-quality surround sound system for an exceptional audio experience, ensuring your favorite music sounds incredible.
Tinted windows not only provide privacy but also give our party bus an upscale appearance, allowing you and your friends to enjoy the party in style.
A spacious cooler, capable of accommodating up to 30 cans, ensures your beverages remain delightfully cool during the entire trip.
Two bar areas conveniently located onboard, providing easy access to your favorite drinks.
Bluetooth connectivity, enabling you to wirelessly play your desired music and keep the party going.
Comfortable black padded leather seats, offering maximum comfort and adding a touch of sophistication to your ride.
Air conditioning and heating systems to ensure optimal comfort, regardless of the weather outside.
Three televisions for on-board entertainment, allowing you to enjoy movies, shows, or even display special messages for the guest of honor.
iPhone TV connection for seamless media streaming, giving you the freedom to enjoy your favorite content during the journey.
Two spacious dance floors, providing ample space for dancing, celebrating, and creating lifelong memories.
Privacy curtains, allowing for intimate moments or private conversations when needed.
We also offer buses with a capacity of 24 passengers, featuring the following amenities:
Experience colorful party lights that create a lively atmosphere.
Enjoy high-quality surround sound for an immersive audio experience.
Benefit from polarized windows for added privacy.
Utilize the spacious cooler to keep your drinks cool during the journey.
Take advantage of two bar areas for convenient drink service.
Connect your devices effortlessly with Bluetooth connectivity.
Relax in plush black leather seats.
Stay comfortable with air conditioning and heating systems.
Enjoy entertainment on three televisions.
Stream media from your iPhone to the TV.
Show off your dance moves on two dance floors.
Ensure privacy with the availability of privacy curtains.
Immaculate and Organized Buses: Our Standard
A glamorous tour isn't just about the sights outside – it's also about the environment inside the bus. We pride ourselves on maintaining our buses in a clean and organized manner, creating a pleasant and comfortable atmosphere for all our passengers.
We Strive for Your Satisfaction
Our commitment to our clients goes beyond the ride. We make an extra effort to ensure your satisfaction, catering to your unique needs and requests. Moreover, our dedicated staff will be at your service throughout the tour, making sure you have the best possible experience with our Glamorous VIP Bus Tours in Dallas.
Glamour at an Affordable Price
Despite offering a premium service, our prices are very affordable. We believe that everyone deserves a taste of luxury, and we've priced our services accordingly. Moreover, with VIP Dallas Party Bus, you can enjoy a glamorous tour of the city without breaking your budget.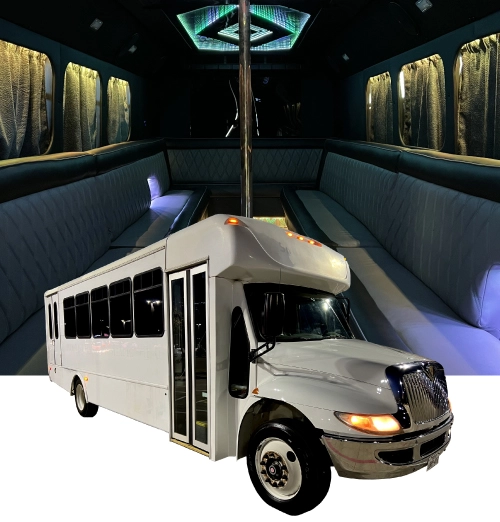 Your Luxury Tour Awaits
In conclusion, VIP Dallas Party Bus offers an unmatched experience with our Glamorous VIP Bus Tours in Dallas. With our punctuality, reliability, cleanliness, dedication to customer satisfaction, and affordability, we are the top choice for luxury tours in Dallas. Contact us today to book your VIP tour and explore the city in style.