The Ultimate Corporate Retreat on Wheels with VIP Dallas Party Bus
A Unique Corporate Retreat on Wheels
Are you planning a corporate event that needs a touch of class and luxury? Look no further than the VIP Dallas Party Bus! We specialize in providing a distinctive "Corporate Retreat on Wheels in Dallas", taking your business gathering to the next level. With the comforts of a mobile meeting space and the elegance of a VIP lounge, your corporate event will be a ride to remember.
Our Deluxe Bus Fleet
Our service caters to a variety of group sizes, offering two types of VIP buses to suit your needs. First off, we have a luxurious bus with a capacity of 14 people, perfect for smaller, intimate teams. Secondly, for larger groups, we provide a spacious bus that accommodates up to 24 people. Regardless of the size, both our buses guarantee a seamless blend of comfort and convenience.
Punctuality and Reliability: Our Hallmarks
We understand the value of time, especially in corporate settings. Consequently, our services are centered around punctuality and reliability. Be it a long-planned corporate retreat or a last-minute meeting, our VIP Dallas Party Bus is always on time and reliable, ensuring your event runs smoothly and efficiently.
Immaculate and Organized: Our Promise to You
Our VIP buses are kept clean and well-ordered at all times. We maintain a high standard of hygiene and organization, making sure your corporate event takes place in an environment that feels as professional as your office, yet with the added flair of a VIP treatment.
Step aboard our luxurious party buses, designed to accommodate 14 passengers, and indulge in the following amenities:
Colorful party lights to create an energetic atmosphere, setting the stage for an unforgettable celebration.
A high-quality surround sound system for an exceptional audio experience, ensuring your favorite music sounds incredible.
Tinted windows not only provide privacy but also give our party bus an upscale appearance, allowing you and your friends to enjoy the party in style.
A spacious cooler, capable of accommodating up to 30 cans, ensures your beverages remain delightfully cool during the entire trip.
Two bar areas conveniently located onboard, providing easy access to your favorite drinks.
Bluetooth connectivity, enabling you to wirelessly play your desired music and keep the party going.
Comfortable black padded leather seats, offering maximum comfort and adding a touch of sophistication to your ride.
Air conditioning and heating systems to ensure optimal comfort, regardless of the weather outside.
Three televisions for on-board entertainment, allowing you to enjoy movies, shows, or even display special messages for the guest of honor.
iPhone TV connection for seamless media streaming, giving you the freedom to enjoy your favorite content during the journey.
Two spacious dance floors, providing ample space for dancing, celebrating, and creating lifelong memories.
Privacy curtains, allowing for intimate moments or private conversations when needed.
We also offer buses with a capacity of 24 passengers, featuring the following amenities:
Experience colorful party lights that create a lively atmosphere.
Enjoy high-quality surround sound for an immersive audio experience.
Benefit from polarized windows for added privacy.
Utilize the spacious cooler to keep your drinks cool during the journey.
Take advantage of two bar areas for convenient drink service.
Connect your devices effortlessly with Bluetooth connectivity.
Relax in plush black leather seats.
Stay comfortable with air conditioning and heating systems.
Enjoy entertainment on three televisions.
Stream media from your iPhone to the TV.
Show off your dance moves on two dance floors.
Ensure privacy with the availability of privacy curtains.
Going the Extra Mile for Client Satisfaction
At VIP Dallas Party Bus, we firmly believe in going the extra mile for our clients. Moreover, our well-trained staff is dedicated to meeting and exceeding your expectations. Consequently, we pull out all the stops to ensure that your Corporate Retreat on Wheels is a rewarding and memorable experience for your team.
Affordable Luxury
Despite offering an exquisite VIP service, we believe in making luxury accessible to all. Our prices are very reasonable, allowing businesses of all sizes to afford an impressive and enjoyable corporate retreat. With VIP Dallas Party Bus, upscale luxury is no longer beyond reach.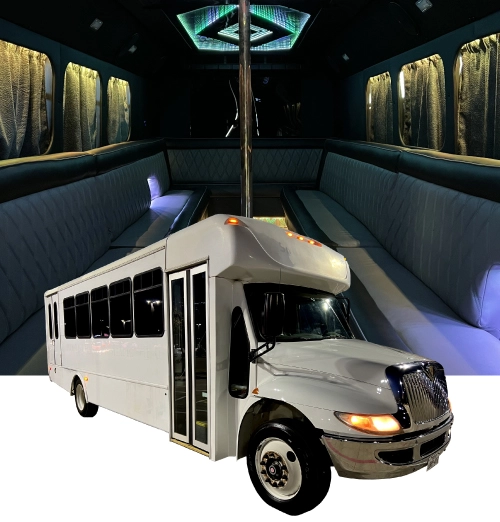 Your Perfect Corporate Retreat Partner
In conclusion, if you're planning a corporate event, VIP Dallas Party Bus is your ideal partner. Our unique "Corporate Retreat on Wheels" service, backed by our punctuality, reliability, cleanliness, dedication to customer satisfaction, and affordable pricing, ensures a one-of-a-kind experience. Make your next corporate event stand out with the unmatched luxury of VIP Dallas Party Bus. Contact us today to reserve your ride.