Traditions are an important part of who we are and to remember our ancestors. With each generation things change, they evolve but we can still integrate the traditions from our families. On Saturday March 16 we picked up this beautiful Quinceanera and her friends from her house in Dallas, Texas. She looked beautiful with her pink and red princess dress, with an all girl court , 4 of her friends had pink short dresses and the other 4 had red short dresses. All of the girls including the quinceañera had pink laced tennis shoes.
After we picked them up in our 24 passenger party bus we took them on a tour towards downtown Dallas, we made a few stops along the way. First they stopped at the trinity bridge, took some pictures with her friends and walked on that warm beautiful day.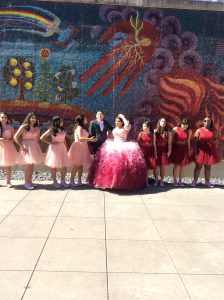 After, we took them to Deep Ellum, they took some pictures by the mural paintings. They danced and watched videos on our 3 TVs and paid subscription to YouTube Music. The final stop was The Dallas Event Center.